I must say, living on an Island can be as idyllic as everyone thinks. Imagine the beautiful white sandy beaches and bright blue skies but life in general is not a holiday advertisement and the reality of Island life can be unexpected for some new residents.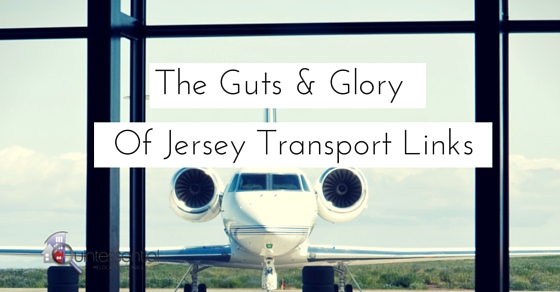 When everything is going to plan, we can arrive into Jersey through the hundreds of flight connections everyday or via the sea with Condor Ferries. Our mail and newspapers arrive early in the day followed by numerous deliveries for the supermarkets, shops and our online purchases are delivered to our doors. But what about when things aren't going to plan?
Over the last few months we have seen numerous problems with Condor Ferries due to mechanical issues or awful weather (many thanks to Storm Kate!) and this has a knock on effect to our Island routine – empty supermarket shelves is always a shock, no freight deliveries is frustrating and cancelled sailings for tourists coming to Jersey or residents leaving for holidays is very disappointing.
To ease the exasperation that this can cause, there must be an alternative to the usual transport links and, luckily, Jersey does have a number of companies who will charter jets;
Aviation Beauport (local jets can be used or a brokerage service can be used to find a jet of your choice)
Private Fly (you can charter a jet for up to 8 people and you can also purchase "empty legs" which are routes available to purchase but at considerably discounted prices)
Aeris Aviation (you can purchase a number of hours which can then be used as needed – handy for last minute changes)
The benefits of using the above charter services include;
Extremely quick flying times – Jersey to London in approx. 45 minutes. Even less to Southampton!
Superior leg room, of course!!
Larger baggage allowance – up to 25kg per bag on most jets
Landing in smaller, quieter airports so less hassles retrieving baggage and exiting the airport
Travelling with friends/family/acquaintances and no-one else!
We would hope that Condor Ferries will return to the reliable service that they have provided for a number of years (prior to 2016!) because they are an integral part of living on an Island surrounded by sea but next time you might be caught short with travel plans, think about chartering a jet – it may not be quite as expensive as you think! Or, alternatively, cancel everything and stock up the cupboards, fridge and hunker down with the duvet and some good DVD's until the storm blows over!!!!
Get all the latest on island life by subscribing to our email list for monthly updates.