Relocating to the Channel Islands can be rewarding with both career and lifestyle benefits.  But there are key difference that means moving to Jersey can be daunting. You will need to deal with Jersey's unique;
Legal system
Tax structure
Local telecom companies
Social security arrangements
Housing regulations
This doesn't have to be as challenging as it appears especially if you use the services of a relocation consultant. The benefits of the island lifestyle are clear as soon as you step off the plane.
 Miles of sandy beaches
Pretty countryside to explore
Plenty of activities for all the family
A short daily commute
At Quintessential Relocation Consultants we get asked a lot of questions about living in Jersey.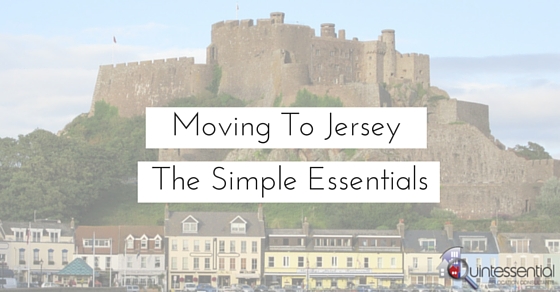 Living in Jersey
What are the tax benefits to living in Jersey?
Jersey is famous for its attractive taxation, although it isn't a 'tax haven', and it complies with all global standards for tax co-operation. Jersey's personal income tax is 20%, and corporation tax is currently zero. There's 5% tax on goods and services, but no VAT. If you would like to know more about the tax implications of moving to Jersey sign up for our Tax Video Series.
How long will it take me to get to work?
Your daily commute will depend on where you live in Jersey.  Typically it's a 30 minute drive to St Helier where most people work.  This means in the summer you can be enjoying a barbeque on the beach by 5.30.
What about medical care?
There is one main hospital and a number of different clinics around the island.  Unlike the UK a visit to you GP is chargeable but it is subsidised by the States of Jersey.
Can I buy a house in Jersey?
Buying a house depends on your residential status in the Island.  There are four different statuses.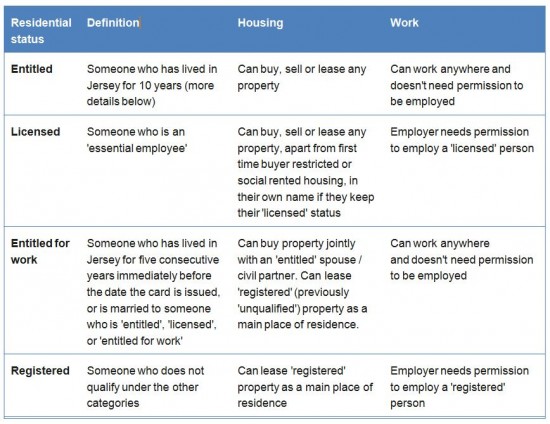 Via States of Jersey Website.
This is quite a complex area, so we recommend you contact us for advice. However, as a basic rule, anyone assigned Licensed, Entitled or Entitled to work status can occupy Qualified accommodation. Don't be put off by this system. The housing market is certainly different in Jersey, but you can find out more from us, or by researching on the State of Jersey website.
Do I need a Relocation Consultant?
Moving to any new country is an exciting yet daunting time, but in the fallout of Brexit, we're likely to see a greater appetite for migration from the UK to Jersey. If you're considering your options, Quintessential Relocation Consultants can help you to successfully settle in and live in Jersey.
We can help you get to know the island, find accommodation, and start searching for your chosen property. We can handle the logistics of your move, and help guide you in your property purchase. If you have children, let us assist with nursery or school places, and allow us to introduce you to locals who will welcome you to your new home.
If you're considering a move to Jersey or Guernsey, contact the experts at Quintessential Relocation Consultants now. We're here to make it easy to step straight into your new home.