For an island so small, Jersey has a wealth of information for the historians among us.  Whether you are fascinated with the Neolithic times, Ice Age, Roman times or indeed the 20th century, there are facts to be found in Jersey for all these eras.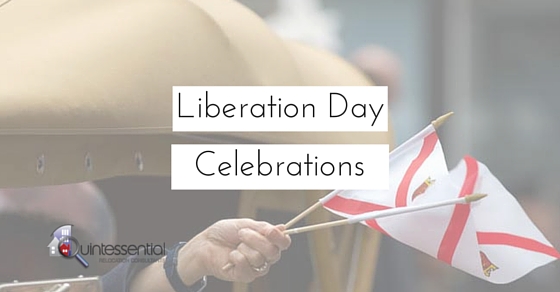 The 20th century is foremost in our minds with Liberation day nearly upon us.  The island is getting ready for the usual festivities and parade.  Everyone gets a day off (an extra bank holiday to the UK) and St Helier is pretty much closed to traffic to enable a re-enactment of the arrival of liberating forces and a drive by of vintage cars and military vehicles.  This special day is surrounded either side by music festivals and motor festivals with something extraordinary going on throughout the month of May.
Experience history in a different way, walk through the deep, dark passageways of Jersey War Tunnels at night.  There is a candlelit walk available on Thursday, 5 May at 7pm –wrap up warm and bring a candle or torch.
On Friday 6th May 12pm you can hear from evacuees who lived through the start of the War at The War Tunnels You can listen to their testimony and ask questions to get a glimpse into what it was to live through the experience.
History comes alive with a team of Blue Badge Guides who offer a variety of talks and walks exploring all the many facets of Jersey's past and environment.  Whether you are new to the island or a long term resident, there is always something to learn.  Sign up to a walk about ;
Our two lovely Castles – Mont Orgueil and Elizabeth Castle
How St Helier has developed over the years
History of St Aubins Village
Jersey's National Coastline along with learning about foraging from the sea
History of our harbours and fishing industry
Alternatively take to the sea with a historical trip in a kayak?  You can learn a lot from the Kayak tours which are available from St Brelades Bay plus get some exercise and fresh air at the same time!