The team at QRC are starting to make plans for Christmas and our team in Jersey thought it would be useful to share some information about La Fête De Noué which runs from Thursday 4th December through to Sunday 7th December and marks the start of the festive period in Jersey.
La Fête dé Noué, translates from the local Jersey Norman-French language as 'Christmas Festival'. The festival aims to  animate the Island with a programme of activities to complement the lead up to the festive period. Year on year more activities are added so there is something for everyone to get in the festive mood, here are a few examples of whats in the festival this year.
Christmas lights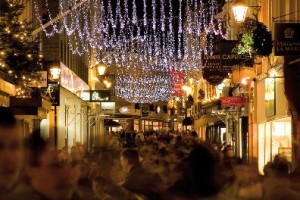 The Christmas lights are switched on from Thursday 27th November 2014, throughout the streets of St. Helier. This creates a canopy of brilliant white lights that signal the start of activities in the build up to the  Christmas holidays.
Christmas shopping
During December, most of St Helier's shops will be open late on Thursday evenings, and also all day Sundays. (a rare occurrence in Jersey) See individual stores for more information of in store activities.
Markets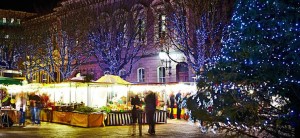 Beside the Central and Fish Market we also host additional markets for Christmas. Markets run from Thursday 4th December through to Sunday 7th December . Located at the Royal Square , Liberation Square, and Weighbridge Place in St Helier. All offer some thing different from festive crafts, decorations,tasty treats, and live entertainment. A popular market with both locals and visitors is the  Lé Marchi Mouormand ( Norman French Market) an opportunity to sample some regional Norman-French treats such as home-made crépes to saucisson and Normandy cider.
Parades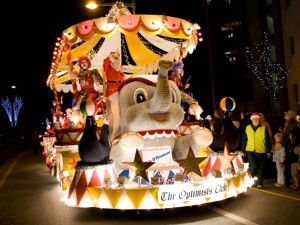 If you enjoyed the Battle of Flowers in August is this is fast becoming the Winter version! On Sunday 7th December starting at Rue de L'Etau by the Radisson Blu Hotel, from 18.00 through to approximately 19.20 a colourful procession of floodlit floats decorated in twinkling lights will parade pass with a mixture of music and dancing. The procession travels along La Route du Port Elizabeth turing east along La Route de Liberation, around Liberation Square with a finishing point along the Esplanade. Many hours of hard work will have been put into making the floats look festive and you may just see Father Christmas joining the parade !
Winter "Wander"Land  
If you need a break from the Christmas shopping or to maybe walk off some of the Christmas goodies, why not discover more about Christmas in Jersey in days gone by and consider joining a town tour or a rural ramble ? There are a selection of walks to suit all levels and some are also free of charge, some example are;
Historic Town Tour
Learn about festivities of the town, hear of tales of times past and learn some local Christmas traditions along the way. Available Saturday 6th and Sunday 7th December from 11.00 through to 16.00 every hour on the hour. Leaves from Royal Square and is FREE of charge.
Festivities and Fisherman
Enjoy a leisurely stroll exploring the picturesque 18th Century harbour and town of St Aubin. Visit the cobbled High Street and imagine the joys of Georgian Christmas parties that were once held there. This walk is on Friday 5th December from 10.30 to 13.30 starting at St Brelades Parish Hall, St Aubin and is £8 per person.
Meet Father Christmas
We know that Father Christmas is very busy in the run up to Christmas but he is scheduled to be visiting at the Georgian House Museum, at 16 New Street, St Helier on the following dates, Saturdays 6th,13th and 20th December from 10.00 to 16.00. Cost is £3 per child and includes a gift to take home. A visit to 16 New Street is a great opportunity to experience how a Christmas in times past would have been.
This is just a very small selection of activities available for all to enjoy in the run up to and during the festive period. To get further information visit the Tourism office in Jersey or visit www.jersey.com/christmas to learn more or to download the full programme.
We wish you a very happy Fête De Noué !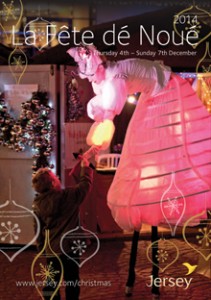 If you would like more information on these or any other activities available within the islands, or, for independent, expert guidance on moving to the Channel Islands, please contact Jo Stoddart, Managing Director of Quintessential Relocation Consultants on +44 (0) 1481 257200 or email: jo@qrcci.com