As the leaves begin to turn and the air cools, autumn is the perfect season for walking in Guernsey. Our island is at its very best at this time of year with temperatures that are still warm and all the natural beauty of this stunning coastline at its most enticing. The Guernsey Autumn Walking Festival is designed to make the most of the beauty of this part of the world as the seasons change. Running from 3rd to 18th September 2016 it is made up of 50 walks that are led either by the Bailiwick of Guernsey gold or silver Accredited Guides. Silver and Gold accreditations are awarded to guides following a stringent training and assessment program so all the walks during the festival are properly led and planned.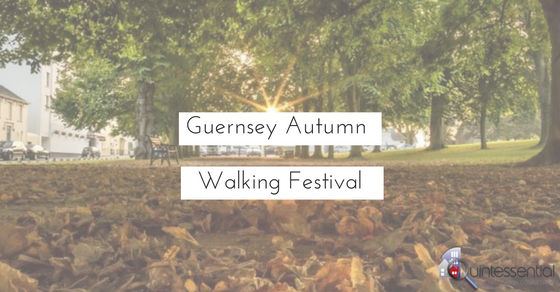 How is the festival organised?
The walks take place across the day from 3rd to 18th September, some in the morning, others in the afternoon and also in the evening for those otherwise occupied during the day. The choice of walks is broad, whether you're looking for an all day walk that will really allow you to explore everything the island has to offer, or a short evening stroll to help you wind down and relax. All skill levels are also catered for, from beginner walks that are pleasant and easy, to more challenging tracks that are rewarding and designed to test.
Learning as you walk
One of the benefits of taking part in the Guernsey Autumn Walking Festival is the experience and knowledge of the guides. There is a lot to learn about this island, and neighbouring Herm, and a guided walk is the perfect way to get to know more about these green and pleasant lands. During the Guernsey Autumn Walking Festival walks you'll discover who trod the paths before you, including heroic Guernsey residents and those who visited the island in years gone by. You can find out about Guernsey's military history and its German occupation, as well as the heritage of the towns here. And, of course, you'll learn all about the landscapes that you're walking through, from the breathtaking cliffs to the flora and fauna that populate them.
Why take part in the Guernsey Autumn Walking Festival?
Guernsey's walking festival is a great option for getting to know the Island, whether you're newly arrived and looking to find some roots, or you've been here some time and want to rediscover everything it has to offer. You can take part in groups or on your own and it's a fantastic family activity – ideal for getting kids out into the countryside before the winter months really set in. With the broad selection of walks to take part in, and the potential for either sociable strolls or some quiet contemplation, the Guernsey Autumn Walking Festival is the perfect way to bid farewell to a wonderful summer and welcome in the new season.