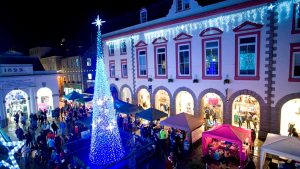 Guernsey will be lit up this December with festive street markets in St Peter Port's historic square, traditional carol services, Christmas shopping in Herm and Christmas pantos.
TASTE FOR NOSTALGIA
From mid-November until Christmas
The Folk & Costume Museum Christmas Shop offers a mix of traditional items including sugar mice, confectionary and Belgian chocolates, jams, chutneys, honey, curds and mustards. Children's toys abound from spinning tops, aircraft carriers and tool boxes, to string puppets.
This is an engaging place to start if you want your child to step away from technology.
The National Trust of Guernsey Christmas shop buys in to traditional games and family time, with sneaky treats for the grown-ups, to boot.
The shop is open Tuesdays to Saturdays (dates TBC). Enjoy mince pies and mulled wine on opening and closing dates and Fridays too. There is plenty of parking.
If you're looking for something unique, charming and delightful, 26 Cornet Street is a 'must visit'.
The Victorian Shop in Cornet Street, St Peter Port will be open on Thursdays, Fridays and Saturdays (times TBC) during December.
WINTER FAYRE AT ST JAMES
Come and celebrate the start of the festive season in the beautiful setting of St James. Local craft stalls, Father Christmas' Grotto, raffle and lots more. Taking place on Sunday 25 November from 1pm – 7pm.
ALPINE LODGE
Guernsey's ultimate Alpine experience returns this year. From 16 November until 5 January 2019, the Alpine Lodge at the OGH is a unique way to celebrate the festive season!
CHRISTMAS LIGHTS SWITCH ON
Father Christmas visits both St Peter Port and The Bridge (St Sampson) each year to collect letters from children and to turn on the festive lights that adorn the streets of both shopping centres. The fun starts around 4pm both days – St Peter Port on Saturday 1 December and The Bridge on Friday 7 December.
MAGICAL CHRISTMAS MARKETS SQUARE, ST PETER PORT
The market provides shoppers with great opportunities to buy original presents, made locally – including hand-painted plates, photos and prints, handmade soaps and Guernsey books and stamps. There will also be unique Guernsey Lily motif hand-painted cushions and sheets, craft made door stops and draught excluders, handbags (not locally made), Christmas hampers, contemporary hand-crafted and antique jewellery, children's gifts and watches and fancy dress costumes. Look out for new stalls too, which will add to the variety.
Saturday Christmas Market are taking place on Saturday's 1, 8, 15 & 22 December.
HERM CHRISTMAS SHOPPING
Each Christmas, Herm Island opens up its popular gift shops for visitors to do a spot of festive shopping. Carol singers help get shoppers in the festive spirit and day-trippers can also enjoy a windswept walk around the island and a winter warmer in the pub.
Tickets available from Travel Trident Ticket Kiosk. No pre-bookings, tickets available on the day of travel. £1 trips only apply to passengers departing and returning on the same day. Timetable is subject to tidal and weather conditions.
LE PETIT TRAIN CHRISTMAS LIGHTS TOURS
Jump onboard Le Petit Train around St Peter Port to view the festive lights. Tours run from 4 – 19 December departing from the Albert Pier at 6pm
LATE NIGHT CHRISTMAS SHOPPING
Late night shopping in St Peter Port takes place on Thursdays in December.
There is also late night shopping on the Bridge, St Sampson, a shopping area to the north of the island, on Tuesdays.
ICE SKATING RETURNS!
From 1 December you can join in the festive fun of the real ice rink as it returns to Guernsey again this year!
OTHER EVENTS AND ACTIVITIES
There will be various Christmas concerts taking place at St James during December. If you fancy a bit of Island Hopping this festive period, there are some great value special offers in both Herm and Sark.