It might not quite be the FA Cup where "anything can happen" but it certainly is up there as one of the most important sporting events in the Jersey calendar.  The annual Muratti Cup is being played this weekend and the countdown has been on for a while (thanks to the Hepburns Insurance clock on the Norman's building)!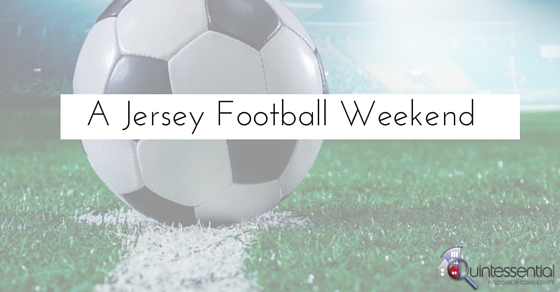 Non-residents and new residents of the Channel Islands cannot believe the passion and competitive instinct between the different Channel Islands.  Although we only think of the Muratti as a competition between Guernsey and Jersey, Alderney are also involved and have won the vase once in its 100 year history.  Guernsey or Jersey (alternating each year) will play Alderney in the "semi-final" and the winner will then play the other island.  You never know, Alderney may hit fame again this year!
Football is certainly rivaling rugby as one of Jersey's most popular sports and with the fantastic facilities available throughout the Island (Springfield Stadium – pictured below, Les Ormes Soccer Dome, Fort Regent 5-a-side facilities, Quennevais pitches, FB Fields plus 17 senior clubs with their own pitches), there is certainly plenty of scope for getting children involved and building those "grass roots" that we hear so much about.
And those grass roots are definitely growing in Jersey.  The Capita Centre of Excellence work hard with players from U12 – U18, nurturing a Jersey team at all age groups from boys selected from various clubs.   No doubt that some of these boys will be Muratti players in years to come!
And we also have the girls getting in on the action.  The girls will play their 20th Muratti this year on Sunday, 15 May and after the gold medal success of the Jersey Women's team at the last Island Games, we hope the success will continue.  To promote women's football further, the Jersey FA have partnered with Waitrose to dedicate coaching sessions for 5 – 11 yr old girls on the Springfield pitch every Wednesday.  And I have no doubt that some of these girls will be Muratti players in years to come too!
So, if you happen to be in St Helier this weekend and hear a few chants, roars, cheers, etc, you will know what is going on!  Plus BBC Radio Jersey will be commentating on the matches so tune in if you can't make it, the atmosphere is always great and you will be surprised at the passion of two small islands who do believe "anything can happen" on this great day!!!