You have made the big decision to uproot your family, pack up your life into boxes and move.  This is only the first step to your new life, next come the logistics of mobilising the family from A to B. But is it the packing up of a life or the unpacking of a new life that is the most stressful?
Packing up is a great opportunity to purge your belongings and get rid of the hoards of baby clothes, cuddly toys, unused sports equipment. After that sense of achievement, you are faced with piles of boxes in  a new environment and your youngest crying because Boo the bear has gone AWOL in the move.  On top of that you've cut your finger while searching for a mug to make a cup of tea and there isn't a plaster to be found.  Not being able to find the things you need to get on with your life can be frustrating and stressful.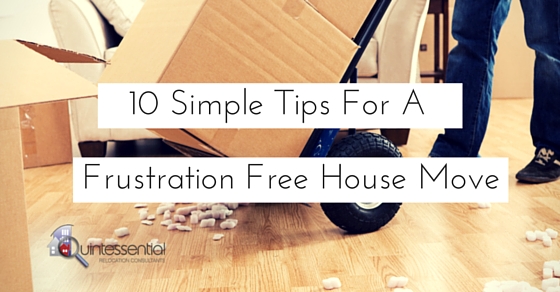 To help you avoid frustration and enjoy the excitement of starting your new life, here are  some handy tips for dealing with the dilemmas of packing/unpacking your life;
1. Prepare an "Essentials box" which includes all major paperwork.  Passports
Birth certificates
Wills
Marriage certificates
Doctors/medical records
School reports
Proof of no claims bonus for car insurance
Vet records etc
You should be able to put your hand on any paperwork needed to get a driving licence, open a bank account, paperwork required for starting school, insurance company's requirements, etc
2. Sort out possessions between what can be boxed and stored/shipped and what needs to be kept with you.
Jewellery
Valuables
Medication
Clothing
Toiletries
These should be available to you during the transition period.
3. Once sorted, the items to be kept in storage can be taken away prior to the actual moving day which makes things easier on the day.
4. Give away any house plants plus fresh or frozen foods which you will not have time to use – you don't want to waste time unpacking dead plants or mouldy food!
5. Make some big signs clearly stating "DO NOT PACK" to attach to items you will be leaving.
6. Defrost the fridge and freezer and clean thoroughly. Leave the doors open so that they have time to dry out before being packed and …. Top tip…… a fistful of coffee beans in a pop sock will stop them going mouldy during storage!

7. Make one cupboard the last designated area to pack – leave medication, first aid kit and cleaning supplies in here which you might need right up to leaving your house. This box can then be kept to hand for use straight away in your new home too.
8. Have a supply of disposable cups and plates available for snacks on moving day to keep the workforce going.
9. Create an "OPEN ME FIRST" box with any necessities that you will need immediately… the kettle and tea/coffee is a good one to put in here!
10. Suggest that your children also prepare an "OPEN ME FIRST" box which includes their favourite toys, books, posters, pillows. etc
Moving house or country is always a busy time but with these top tips it doesn't have to be stressful.
To get more tips about relocation and life in the Channel Islands by subscribing to our email list for monthly updates.