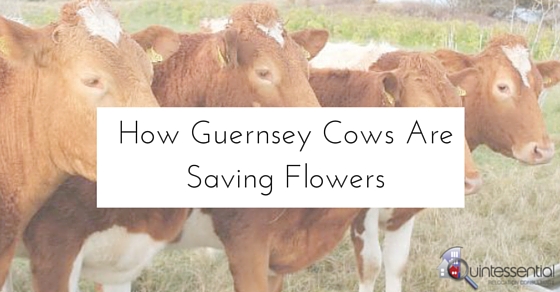 Life can be interesting and diverse in Guernsey despite the small size of this rock.  Finance and tourism are busy industries and we are lucky to have so many excellent restaurants and cafes.  Away from the hustle and bustle are places of natural beauty in serene settings.  It is incumbent upon the people of Guernsey to look after these special places and protect and enhance natural habitats.  Traditionally the commons were grazed by herds of cattle owned by farmers in parishes to the North of the Island.
While there are still dairy farms most grazing is on privately owned fields.  The gradual move from grazing the commons to mechanical cutting has changed the landscape and native flora and fauna have been lost or are in decline.  Until that is the Conservation Herd was established.  A herd of six beautiful Guernsey Steers have been introduced to graze the commons, reserves and orchid fields.  It is biodiversity at its best and people are both fascinated and thrilled to see them.  Their assignments are to wonder and munch all day long, often in prime locations with ocean views!
Being a small Island the Herd needs to be physically moved between locations; sometimes this is a short walk and sometimes in a livestock trailer.  There is an ever growing team of volunteers that rally together erecting low voltage electric wire fencing and moving the wonderful beasts between grazing grounds.  Other volunteers visit the herd daily ensuring they have sufficient water and checking there are no issues.
Tourists regularly visit the Herd when sight-seeing the Island and when the Herd is on the "mooove" (had to be said) people stop to watch and want to know more about them – they are such a sensation.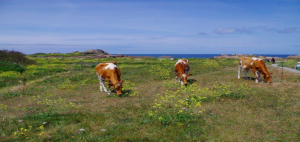 At QRC we don't just help with your relocation, we help you settle into life in Guernsey and we'll introduce you to people and activities that interest you.  A client that recently relocated is already a herd hand.  Having lived on a farm with Guernsey cattle in the UK when a child, he developed a love of the gentle giants and is delighted to be part of the team.  During the day he is immersed in the busy world of finance; moonlighting as a herd hand provides a great way to unwind.
During this long term project, it is hoped the Skylark, currently in decline in the UK, will once again nest in Guernsey using the tussock grasses created by grazing as their nest sites.  This lovely bird is well known for its song-flight, during which it rises almost vertically to 1,000 feet, hovers for several minutes and parachutes down.  To see these stunning flight displays over the commons will be a sight welcomed by many.
It will also be interesting to see what different flowers will re-appear and if our beautiful wild orchid numbers increase.  The science behind how and why grazing is so beneficial is interesting and the results vary depending on the age of members of the Herd and different herds such as sheep, which are used on the cliffs in Jersey.