Despite Guernsey's boutique size, this small island of only 25 square miles has an impressive 27 beaches. From the more sheltered south coast coves, to the open white sands of the north, there's plenty of choice whether you're into sandcastles or surfing.
With so many options, it can be daunting choosing the best beach for a family day out; especially when you're new to the island. You don't want to get caught lugging the buckets and spades down the stairs at Petit Bot Bay when you're not prepared for it!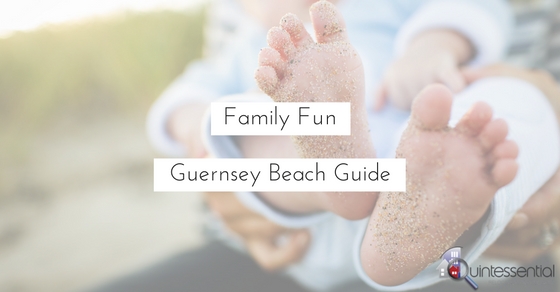 We've put together this handy little Guernsey beach guide to help you plan your family day out in advance.
 Vazon Bay
Situated on the island's west coast, this two mile stretch of sugar-like sand was voted Britain's Cleanest Beach in 2014. With a vast expanse of white sand, there's plenty of room for the children to safely run around.
Vazon is known as a surfing hotspot, so it's great opportunity to play in the waves or even take up some lessons with the Guernsey Surf School. If your child is a little more inquisitive rather than an adventure bug, there are also plenty of rock pools to go exploring in when the tide goes out.
Grab a bite to eat at one of the many kiosks and restaurants along the bay. Crabby Jacks is a particular favourite for families. You can kick back your feet while the kids play in the outdoor play area.
Bonus: Great for playing in the waves & learning how to surf.
Downside: When the tide is out it can be a little bit of a walk down to the shore or the rock pools.
Petit Bot Bay
Situated down a windy little valley on the south of the island, this beautiful cove is well worth the walk down the steep steps. There are plenty of pebbles and shells for the children to play with, and the sand is uncovered during low tide for sandcastle building.
There are a few small caves to the right of the beach which are always fun to explore and a great little tea room serving everything from hot tea and cake to chips and beach toys.
Parking and toilets can be found at the bottom of the hill. However, parking is limited so it's best to visit on a week day or get there early to avoid a long walk down.
Bonus: Great for exploring caves and keeping the kids entertained
Downside: What goes down must come up…. If you can't park at the bottom, prepare yourself for a walk back up the hill.
Port Soif
Cocooned by sand dunes, Port Soif is safe, sheltered and easy to access. Located on the west coast of the island, this bay has a small kiosk with a garden seating area serving hot and cold food, drinks and snacks.
The bay is popular with families for BBQ's and messing around in the sand so it's the perfect spot to extend the day into the evening with burgers on the beach. Port Soif is also a great place to snorkel. However, as it is west facing, it's worth remembering with little ones that there can be strong currents.
There are hot snacks and beach equipment available to buy at the local kiosk and nearby toilets.
Bonus: Parking available for 200 cars.
Downside: There are no lifeguards on duty so keep an eye on the kids when they're in the water.
Cobo Bay
Cobo Bay is one of the most popular family friendly beaches in Guernsey due to its wide bay with golden sands and clear waters. Situated on the west coast of the Island, this beach boasts a busy, non-commercial atmosphere with bars, restaurants, village shops and a hotel just across the road from the beach.
This beach is great for watching sunsets and you can grab a traditional fish and chips from Cobo Fish Bar for an easy dinner after your day on in the sun or decamp to the Rockmount pub. With parking that overlooks the bay, this beach is easy to access.
Bonus: Popular family friendly beach
Downside: The parking can get busy so get there early on weekends and hot days.
Rocquaine and Portelet Bay
Surrounded by fragrant pine forests, the sandy coves of Rocquaine and Portlet overlook Lihou Island and Fort Grey. Portlet Bay is tucked around the headland from Rocquaine and is a popular scenic spot where you can watch the local fishermen pull in their day's catch from the pier.
There's also a cliff path that can be followed around the south of the island if you feel like stretching your legs.
The west facing more open beach is more popular for families and there is good access, toilets and refreshments available nearby. While there is no formal car parking area, there is parking on the road.
Bonus: Watching the colourful fishing boats bobbing in the bay
Downside: Be careful with the kids on the road when parking
Dog Friendly Beaches
There are no beaches in Guernsey operating dog bans but there are some which restrict dogs during peak season. From May to September dogs are not allowed on the following beaches:
• Fermain
• Petit Bot
• L'Eree
• The Northern end of Vazon
• Port Soif
• Cobo
• L'Ancresse/Pembroke
Top Tip
Make sure you keep an eye in the sky for swooping gulls. The seagulls in Guernsey have no fear of stealing ice creams and nipping little fingers….