Geocaching is a real life treasure hunt that uses GPS enabled devices to help you track down a hidden cache, which is usually a box with a log book and sometimes a small gift or trinket inside. It has become incredibly popular in locations such as the Channel Islands thanks to the wonderful natural landscapes here that provide the perfect setting for a good ramble and the thrill of a search.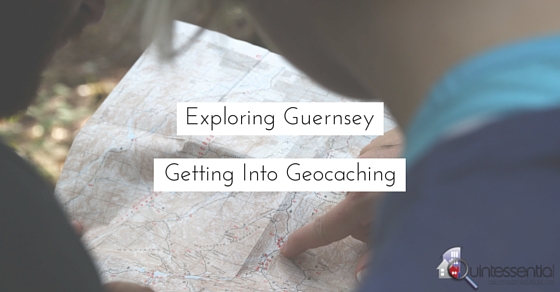 What is Geocaching in Guernsey?
While treasure hunting is something most of us remember from childhood, Geocaching is fairly new and only appeared as an activity with the introduction of GPS devices, such as smart phones. However, the concept is very much the same – treasure hunters navigate themselves to a set of GPS coordinates and then look for a geocache container that is hidden at that location. There are millions of geocaches that have been stashed all over the world – and plenty on Guernsey. Who knows, you could be sitting right next to one right now!
Geocaching is a fun option for exploring life in Guernsey, as it helps get the whole family outside, discovering nature and your surroundings, as well as developing skills, such as team work and routing. You could even make it a competitive activity and offer a butter pecan sundae at the Guernsey Farm Dairy to whoever finds the cache first!
Geocaching in Guernsey is also a great way to make friends, particularly for those who are new to the island. The Geocaching community is very well established and there are lots of people on the island who love to explore its countryside and beautiful coastline like this. If you want to geocache in groups, look on the website for meet up posts – you can also read experiences of how others have enjoyed exploring life in Guernsey through geocaching via the site too.
Getting started With Geocaching
Geocaching requires a smart phone and a basic membership with the Geocaching community, which you can apply for online. Once you are a member then it's time to start searching – visit the "Hide & Seek a Cache" page and then enter your post code to see where on the island there are hidden treasures waiting to be discovered. Choose the Geocache you want to find from the list (if this is your first time, make sure it's a green 'beginner' cache), enter the GPS coordinates into your phone – and then, set off!
Once you find the Geocache then you sign the logbook and return the geocache to its location so that others can come and find it after you. There are currently over a dozen 'cache types' in geocaching, with each cache type being a different variation of the game. Not many rules apply other than if you take an item from the cache you must replace it with something of the same, or greater, value.
So, if you're looking for the best ways of exploring life in Guernsey then this is certainly one for the list. With the wonderful natural setting and opportunities for exercise – as well as creating that extra motivation to get the kids off the sofa and out into the open air – geocaching in Guernsey is fun for all the family, all year round.
If you want to know more about the wonderful island lifestyle sign up to our monthly newsletter.